Across the globe, regulations, policy documents and standards are increasingly including provisions that relate to nanotechnologies. As the nanotechnology regulatory landscape becomes more and more complex, it is crucial for businesses to understand and anticipate the requirements that policy makers are developing, as well as knowing which standards are available for supporting their activities.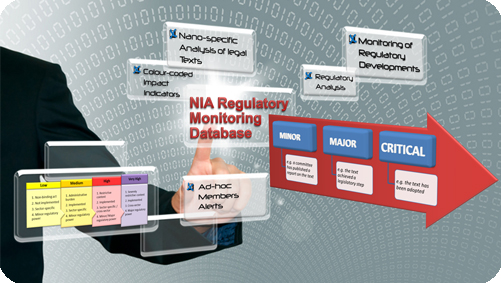 NIA's Regulatory Monitoring Database offers a global outlook on the nanotechnology  regulatory landscape. It provides a comprehensive overview of the regulatory acts that pay special attention to nanotechnologies. This user-friendly service improves the understanding of nanotechnology regulatory developments and so helps businesses to thrive.
Learn more about NIA's Regulatory Monitoring Database with this video.
By subscribing to the NIA Regulatory Monitoring Database service, businesses have access to a one-stop shop where they can find all the regulatory and standardisation information that their activities require, and are alerted to the latest regulatory outbreaks, an easy solution to maintain a competitive advantage.
Down our NIA Regulatory Monitoring Database Flyer to learn more or contact us today to sign up!